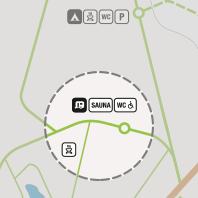 We welcome travelers with their mobile homes, and offer various facilities in the service building near the caravan site.
LOCATION
The caravan site is located nerby our park area in a couple of minutes walk to the seashore.
CARAVAN SITE FACILITIES

Men's and women's saunas with covered terraces
2 showers
2 toilets, one of which suitable for disabled visitors
Washing-up facilities
Launderette
There is a covered grill place near the site which can be used by caravan travelers.
INFO
All prices are per one night.
PRICE OVERVIEW
Day - 43 €
Week - 240 €